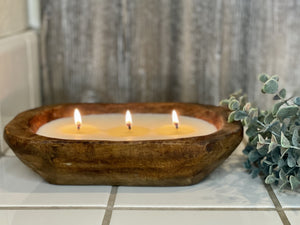 Wooden Bowl Candles
Looking for a unique and rustic type of candle? These gorgeous wooden bowls make an eye-catching centerpiece for any room or table in your home. They are hand-carved dough bowls so all of them are one of a kind and will vary in size. The smooth textures of this real Spanish Oak wood are natural and not machine made. Wooden Bowl candles are the perfect décor piece to add to any room. This 3-wick candle holds 17 ounces of wax and will burn for over 50 hours.
Enjoy the soothing flames and natural beauty of these candles that make a truly special and unique gift.  
WOODEN BOWL CANDLES
Signature Cali Jars
Our matte black Cali Jars hold 8 ounces of pure Soy wax and burn for over 40 hours. They are thick and durable, made with quality ceramic glass. These vessels are stunningly beautiful and have natural bamboo wood style lids. One of the most unique things about this jar is that when lit, the candle flame is visible through the glass. It gives an amber/red tinted glow. This jar is great for any room and adds that perfect touch! Added bonus these jars are excellent quality. These thick ceramic jars are reusable with endless ways to repurpose them.
CANDLES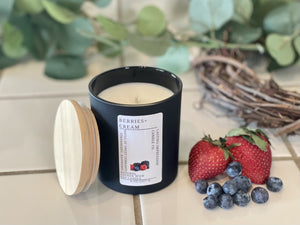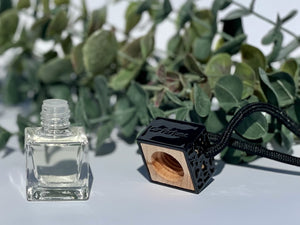 Travel Diffusers
Our travel diffusers add style to any office, room, vehicle or space! They add the perfect touch to your desk, any small space or hanging in your bathroom. Hang your diffuser and enjoy the lasting fragrance it holds. No need for flame! This diffuser offers a safer and convenient way to enjoy our fragrances. Enjoy their fragrance, as they last quite some time.

DIFFUSERS
Mason Jar Plug In - Wax Warmer
These beautiful wax warmers were inspired by home canning jars. It is a porcelain fragrance warmer. It looks even more luxurious when it glows when turned on. It has the phrase "home sweet home" on the outside.
You can add your favorite scented wax melts to the screw top styled dish. It comes with a rotating base that allows it to fit a vertical or horizontal electrical outlet. It includes a warming bulb that melts your wax.
WAX WARMER
Lasting Impression Candle Company

Our candle business was created in 2020. Sometimes when we aren't looking we come across something we didn't know we needed. This candle outlet quickly grew into an amazing passion. Creative and unique handmade items that are eco-friendly and safe for everyone to enjoy with all natural products.
Pure bliss when you smell our handcrafted products. We make and sell Candles, Wax Melts, Room & Linen Sprays and Travel diffusers. The lasting scent with all of our fragrances will leave you feeling happy and uplifted. Our candles and wax melts are made with all Natural Soy wax, free from any toxins. The wax and fragrances we use are also free of carcinogens, toxins and are 100% phthalate free. That way, we know what is being poured into the candles so they are safe for everyone to enjoy. When you smell our Candles, Melts, Room Sprays or Travel diffusers the aroma will transform any room or place into that fresh, earthy, spicy or slightly sweet atmosphere. Try our fresh and clean scents, earthy, masculine choices, bakery fragrances, fruity, floral or just the right amount of citrus scents and you will be intrigued.

Our stylish vessels add flare to any candle you chose and are reusable once the candle is burned. Our jars are very easy to clean after burning your candle, and there are so many ways to repurpose them. Our mission is to reuse so we are creating less waste with our products. We also strive to use eco-friendly packing materials. You can find out more detailed information on our products pages.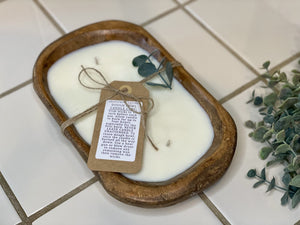 Honeysuckle & Jasmine Scented - Wooden Bowl Candle
Let customers speak for us